Introduction to Think Tanking
What do policymakers want from think tanks?
by Barbara Pongratz
Policymakers are the most important audience for think tanks. They are interlocutors to help us understand current policy problems, stakeholders in developing solutions, and a key target audience for our analyses and advice. However, according to policymakers interviewed for a study by the Stiftung Mercator and Robert Bosch Stiftung published in 2020, think tank products tend to give insufficient consideration to real-life political processes and pressures. In other words, think tank products are not always tailored enough to the target group and their concrete needs.
So, what do policymakers need from think tanks and how can think tankers best bring their expertise to their attention? In one of our Think Tank Lab lunch talks, we asked two of them directly: Britta Jacob, at that time Desk Officer at the Federal Foreign Office, and Alexander Graf Lambsdorff, Member of the German Parliament. Their answers provide useful ideas and concrete tips for ways think tankers can make their work more useful and suitable for policymakers.
Think Tank work is crucial for policymakers, and they use our work daily. Even though we cannot generalize, these two policymakers confirmed the importance of think tanks to their work. Alexander Graf Lambsdorff has witnessed the US think tank industry come to life during the 90s. He pointed out that he benefited enormously from exchanges with think tanks early on in his career. Even before he started in policymaking, the variety and depth of think tank research shaped his own thinking. In his role at the German Federal Foreign Office's planning department, he regularly made use of think tank research.
Britta Jacob, who at the time worked in the Federal Foreign Office's planning department, emphasized that she, too, uses the work of think tanks every day. She and her team regularly discuss think tank publications and pieces internally, participate in events, and engage with experts over the phone.  
Particularly useful to policymakers are the ideas think tanks generate, the bilateral exchanges, and the conversations think tanks facilitate among a diverse set of stakeholders. Since policymakers lack certain capacities and resources, think tankers step in to fulfill crucial policymaking work: the thinking. Running from one parliamentary debate or appointment to another does not leave sufficient time for in-depth analyses of a political situation and identifying the best possible solution.
This is where think tanks come into play. Once think tankers have developed a good idea, it's time for them to spread awareness and generate interest in the idea. From there on, they need to use their networks and relationships with policymakers.
"Foreign policy is the extension of personal relationships", as Britta Jacob quoted Joe Biden. Some policymakers appreciate if think tankers reach out to them directly. While others prefer smaller, and medium-sized conferences or networking events to engage with think tanks. Both speakers, however, emphasized the importance of Twitter: policy ideas and analyses discussed on the platform catch their attention, and increase the chance that they will actually read the respective report. According to Alexander Graf Lambsdorff, think tank work has the greatest impact when an idea develops organically, and you cannot easily trace its origin.
The best think tank products are short and forward-looking pieces that contain concrete policy recommendations that can be integrated into government policy. The two policymakers stated that the piece will ideally contain a catchy analogy or metaphor and present a scenario or idea that they would not typically consider. They value creativity.
On the other hand, they find it tiresome when they come across impractical analyses that come from an "ideal world", where you can immediately tell that the author doesn't understand what's going on behind the scenes in policy. When a paper is written this way, it usually doesn't even reach the desk of decision-makers, because their staff pre-selects and summarizes only the highest quality think tank work for them. One example of an effective think tank product mentioned by the two lunch talk speakers was a paper by Sophia Besch and Sarah Brockmeier titled "Waking the sleeping giant: What's next for German security policy?"
By waiting for the right moment to publish an innovative piece in the right format, and then choosing a well-suited meeting format for discussion, think tankers can increase their impact exponentially. On the one hand, it is the combination of timing and product format that increases impact. The best time for think tanks to influence policy is 12 months before a federal (general) election. This is the time when parties draft their election programs and are most open to new ideas.
On the other hand, it is the combination of the quality of a think tank idea and the power of the right convening format that increases its impact. Britta Jacob lamented that the German Bundestag does not provide a regular space for debate: "This is really a systemic problem." Weekly morning briefings or brown bag lunches, which busy decision-makers can easily fit into their schedules, are ideal formats. The best setting is a small circle of people where decision-makers can be open and say: This is what I need, these are my political constraints, these are the real complexities.
Whether it's "Zeitenwende" (the paradigm shift), input to alleviate the 2015 European refugee crisis, or other groundbreaking ideas or concepts – policymakers didn't come up with them all by themselves, but with the help of think tankers. Once you have a good policy proposal, know how to write it, where to best market it and when to publish it, only then can you maximize the impact of your think tank piece.
---
Barbara Pongratz
Analyst at MERICS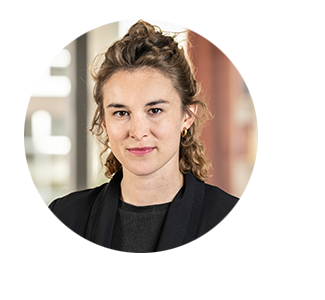 Barbara Pongratz is analyst at MERICS. Her research focuses on Sino-German relations, China's environmental policy and its digital governance. Prior to joining MERICS, she worked in development cooperation in two environmental projects at the German Corporation for International Cooperation (GIZ) and at a German management consultancy in Hong Kong. Barbara studied Sinology as well as European and International Law at Freie Universität Berlin and Ludwig Maximilian University Munich undertaking exchange semesters at Shanghai Tongji University and Peking University.