picture alliance / ASSOCIATED PRESS | Andy Wong
MERICS Briefs
MERICS China Essentials
China's economy under pressure + Ukraine + Covid outbreaks
In this issue of the MERICS China Essentials we cover the following topics:
Invasion of Ukraine, coronavirus outbreak and turmoil in financial sector put pressure on China's economy
Domestic imperatives take precedence in Beijing's response to Russia's invasion of Ukraine 
Covid in China: Reaching the limits of dynamic zero
Profile: Le Yucheng – Sharp-tongued Russia expert may be China's next Foreign Minister


Turmoil in the important real estate sector is only one of a number of convulsions putting pressure on China's economy – and on Xi Jinping in the year he hopes to get himself confirmed as head of the Chinese Communist Party for a remarkable third time. Shortly after its stocks were halted from trading, China's property giant Evergrande on March 22 joined several other developers in announcing an indefinite delay of the publication of its audited annual report originally scheduled for the end of the month. In response, several Chinese banks seized 2.1 billion USD of Evergrande's bank deposits as collateral  for "third-party guarantees". With bond payments totaling almost four billion USD due within the next three weeks, the troubled developer is edging ever closer to insolvency. 
Chinese business confidence – a proxy for companies' willingness to invest – has been sapped on many fronts. Russia's invasion of Ukraine and ensuing US and EU sanctions against Russia have seen Chinese firms struggle under secondary sanctions. Several omicron clusters in China's worst coronavirus outbreak to date have disrupted supply chains and consumer demand in affected cities. 
---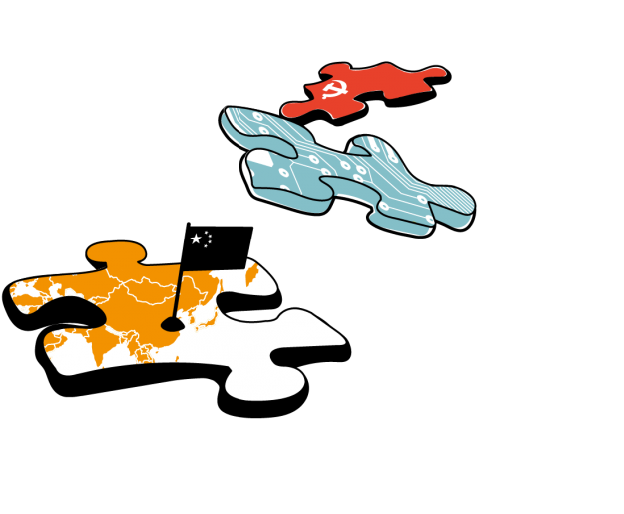 You are reading a free excerpt from the March 24, 2022 issue of our MERICS China Essentials. Become a subscriber to get access to all contents. Find out more about our subscription packages here.
---
Lastly, US authorities set a deadline for new reporting rules, which means US-traded Chinese companies now face delisting from US stock exchanges – even as China's cybersecurity watchdog continued its tech crackdown with still tighter regulations and tougher rules for overseas IPOs.
This combination pummeled China's financial markets. After the CSI300 stock-market index fell by 14 percent in the first half of March, Beijing intervened. In a meeting of the State Council's Financial Stability and Development Committee, vice-premier and economic czar Liu He announced Beijing would implement new policies to boost China's economy and support enterprises in their overseas-listing endeavors. While the index quickly bounced back five percent, it remains eight percent below the start of the month.
Beijing's intervention suggests that the party-state is reconsidering its current strategy. The 2021 regulatory firestorm – which hit the real estate and tech industries and ended the private tutoring sector – suggested Beijing was increasingly comfortable paying significant economic costs to advance political goals. It may still not be hitting the brakes, but the economic price of achieving those goals may now be seen as so high that Beijing is at least taking its foot off the gas to meet growth targets and maintain stability.
MERICS analysis: "Xi Jinping has had a bad start to the Year of the Tiger. In a time that is meant to provide a smooth lead up to his bid to remain in power, China's economy has been hit with a barrage of challenges," says Jacob Gunter, MERICS Senior Analyst. "In an attempt to keep the economy and society stable in the lead up to November's Chinese Communist Party Congress, we can expect longer-term goals like the deleveraging of debt and decarbonization of the economy to be kicked down the road. Instead, the focus will be on stimulating growth and keeping the economy from hitting any rocks."
Media coverage and sources:


The "two sessions", the National People's Congress (NPC) and the National Committee of the Chinese People's Political Consultative Conference (CPPCC), wrapped up in Beijing on March 11. Here is an overview of the main outcomes: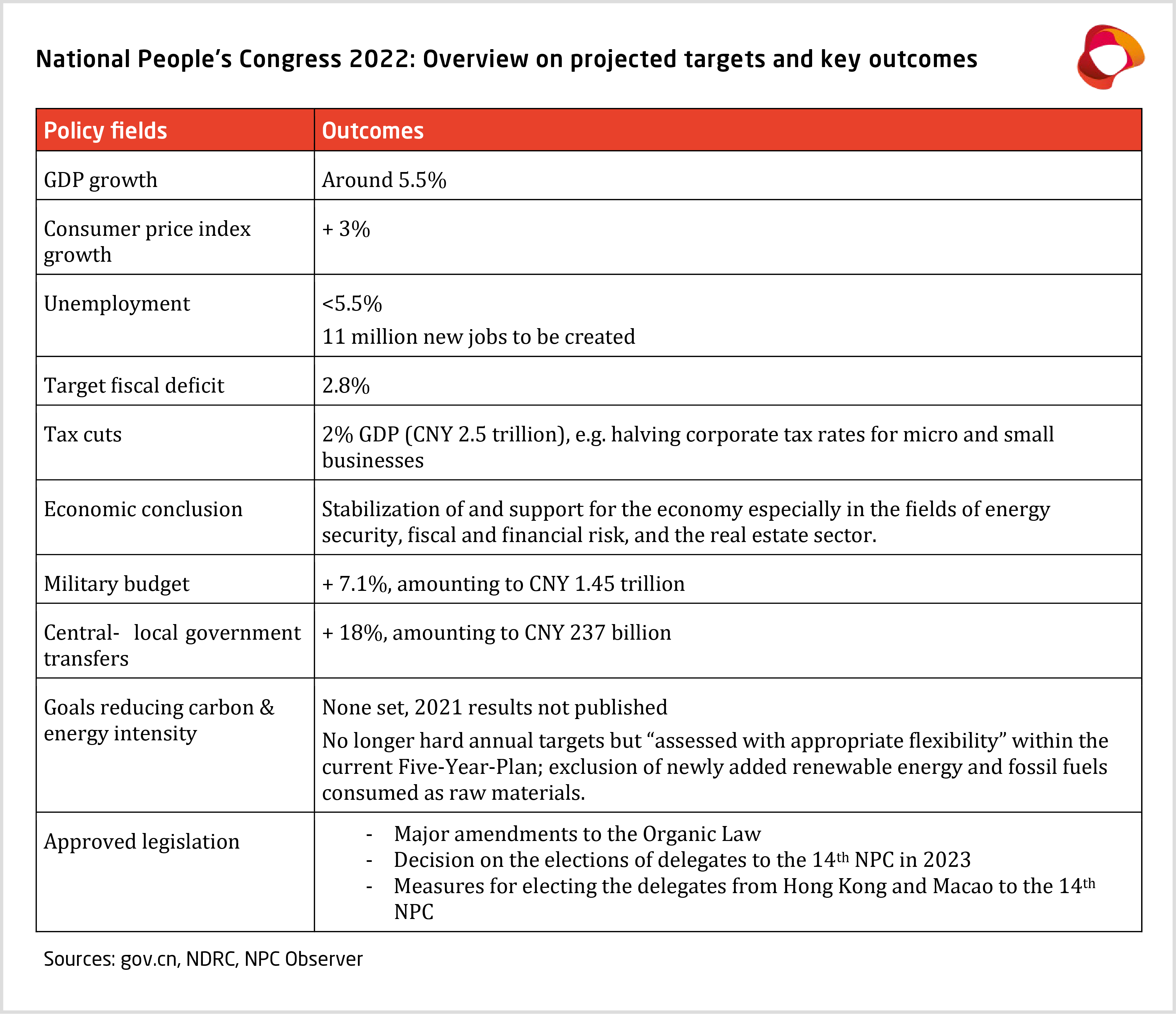 1.34 billion
The number of user accounts deleted from Chinese online platforms in 2021. The Cyberspace Administration of China (CAC) on March 17 revealed the results of its most recent "clear and bright" (清朗) campaign to clean up a "chaotic cyberspace" and build a "civilized internet". It also deleted 22 million posts, banned 7200 video streamers and shut down 3200 websites. The campaign included eight tasks, such as the silencing of "historic nihilism", addressing online fraud and the excessive use of pop-up windows. The CAC plans to further broaden the scope of the campaign in 2022, taking aim at recommendation algorithms and multi-channel networks. (Source: People's Daily [CN])