Tracker
China Security and Risk Tracker
MERICS China Security and Risk Tracker
Focus Topic: "Strategic stalemate": 2022 will be a difficult year for China 
In 2022, the party will set the tone and direction of China's domestic and international policy for years to come. The Chinese Communist Party (CCP) will hold its 20th Congress in the fall, when President Xi Jinping seems certain to secure a third term as party secretary and state president. Ahead of the congress, the CCP will be consumed by domestic policy and internal political jockeying and will want to prevent any major instability from disrupting its plans for the year. However, from Beijing's perspective, the international environment remains challenging.  
Among the main global trends predicted for 2022, Western analysts and forecasters such as the Economist, Control Risks or Eurasia Group have warned of greater decoupling and geopolitical tensions with China, as discussed in a previous piece by Roderick Kefferpütz, published on February 15.1 Here, we build a fuller picture of the year ahead by examining 2022 forecasts from two Chinese organizations – the Ministry of State Security-affiliated China Institutes of Contemporary International Relations (CICIR)2 and the Center for International Security and Strategy (CISS) at Tsinghua University.3  
Their analyses are essential to understand how top Chinese foreign policy thinkers see the world, as this will contribute to Beijing's priority setting in the coming months. They can show us those issues where cooperation may well be possible, and those where it will be difficult.
The picture that emerges from these two forecasts is of a difficult international environment for China. Both agree that 2022 will see yet more intense geopolitical competition. Both put US-China tensions at the heart of the risks Beijing faces this year.  
Beijing seems intent on bringing relations between the two countries (now both superpowers) back on track, or at least "de-icing" them, as a way to reduce risks and prevent escalation that would destabilize China in the run-up to the party congress. Nonetheless, the language Chinese experts use to refer to the relationship between the two has changed. They now refer to relations with Washington as having entered a state of "strategic stalemate" (战略相持). The phrase is reminiscent of Mao's discussions about fighting "protracted wars," and signals a degree of perceived equality between the two powers. China and the US will have to find a way to coexist and manage their competition, as neither side has the upper hand, as yet.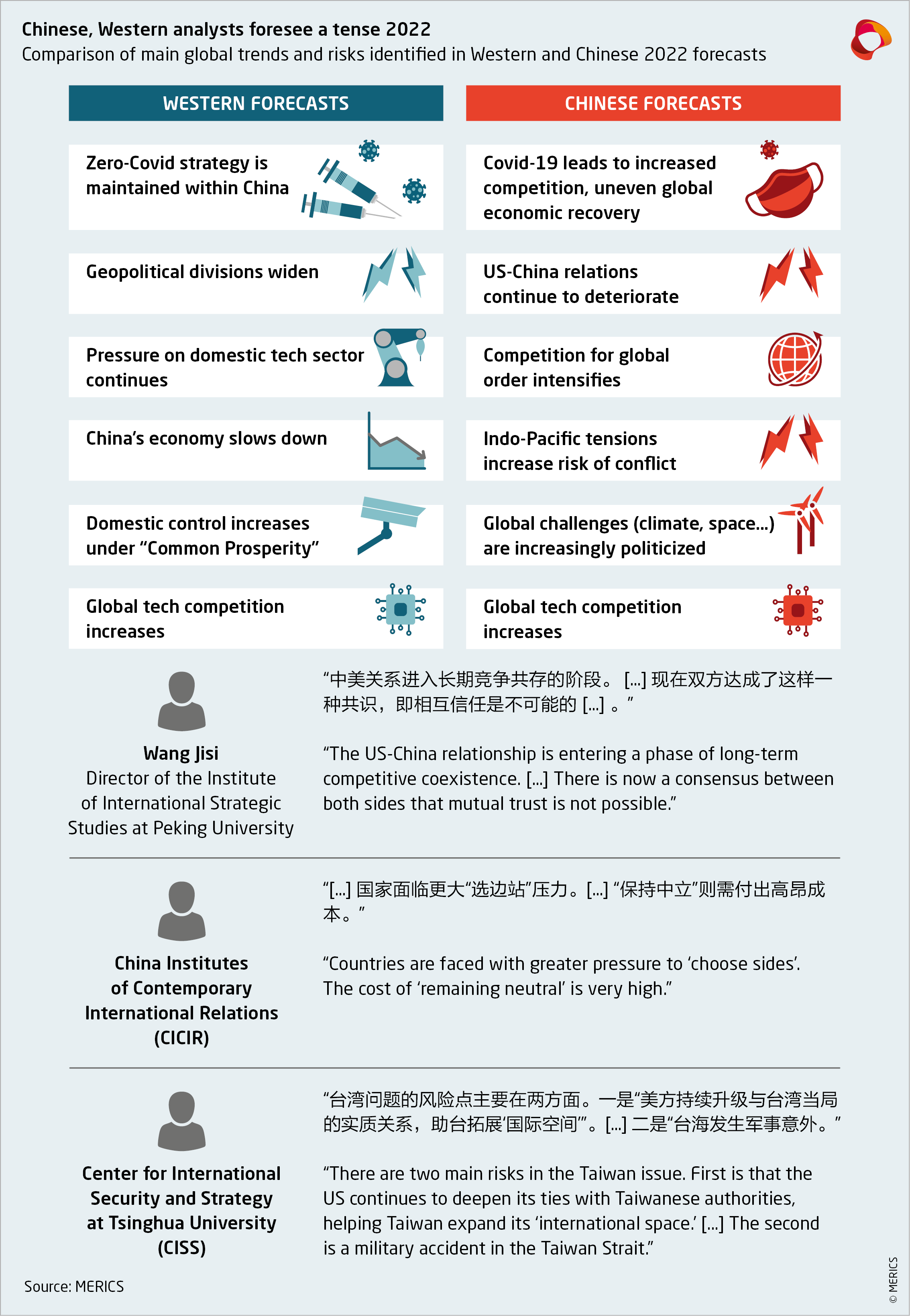 Neither of the two Chinese forecasts expect open conflict in 2022. However, accidental escalation remains a distinct possibility, especially in the South China Sea or along the border with India. CISS cites the reappearance of frictions around China's borders as its top risk for 2022. Interestingly, the situation in the Taiwan Strait, is seen as relatively less uncertain, with the aggravation of tensions in the Strait appearing lower on the list of 2022 risks. This largely reflects Beijing's lack of interest in triggering a conflict there in 2022. To be sure, Taiwan is still seen as a problematic issue, especially given the growing wave of Western support for the island. The US, in particular, is accused of using "salami-slicing" tactics over Taiwan, a phrase that adapts Western language on China's behavior in the South China Sea. An accidental crash between PLA and US military planes or vessels around Taiwan is seen as the likeliest scenario that could trigger a crisis in the Strait. 
Chinese experts also worry about US efforts to build regional coalitions to confront the challenges posed by China. This is seen as a thinly disguised attempt to contain China's rise. The Quad, AUKUS and the recently announced Japan-Australia defense agreement are named as clear examples of this trend. China's experts warn that the Biden administration may shift its focus this year towards "co-opting" developing countries and making them choose sides, given it has already secured buy-in from traditional partners. We can therefore expect greater Chinese attention towards precisely these countries, as Beijing tries to outcompete Washington for influence. Africa, Southeast Asia and the Middle East – all regions along the Belt and Road Initiative (BRI) – will most likely top the priority list. 
There is also a sharper focus on the importance of the Indo-Pacific for China's security and its stake in the overall political situation in the region, and also along the Belt and Road. Among the main sources of uncertainty and risk in 2022, CICIR experts list the politics of Afghanistan, Iraq and Myanmar; slow progress in the Iran nuclear deal talks; and ongoing Russia-Ukraine tensions. As a result, upcoming elections in such key countries as Australia, South Korea, the Philippines, France or the United States have taken on new importance.  
Finally, the two forecasts predict China's external economic environment will become more difficult in 2022. They anticipate continued US sanctions on Chinese firms and individuals; plus new European instruments to tackle unfair competition with China; and growing transatlantic cooperation on these issues. CISS also highlights access to resources as a potential, underdiscussed, risk. Rising oil prices, alongside China's deteriorating relations with major raw materials exporters like Australia could threaten China's energy security this year.  
Global challenges require cooperation with the West though frictions are high  
The Covid-19 pandemic and the ensuing global economic recovery feature prominently in the forecasts considered here. They predict global tensions stemming from unequal access to vaccines and other medical equipment. Emerging and developing markets are expected to struggle to make a full recovery this year, further deepening global inequalities. The trends could impact global supply chains, and lead to instability and crisis in affected countries. 
Chinese analysts predict Western efforts to "politicize" global challenges will increase in 2022. For instance, while the effects of climate change are recognized as a pressing issue, they call out the EU for imposing new, unfair trade barriers on the pretext of tackling global warming, specifically its new carbon border adjustment mechanism.  
Chinese experts are aware that cooperation with the West is essential to tackle all these global issues. All the forecasts examined propose some joint solutions, such as a – presumably China-led – joint international task force to prevent future pandemics. They also highlight the key role that Chinese initiatives could play, when expanded to the rest of the world, in solving common challenges. President Xi's 'Global Development Initiative', for example, is put forward as a way to guarantee stable development for developing countries in post-pandemic times. At the core of this approach is Beijing's ambition to shape the global order in its image.
China faces a difficult year as it prepares for the 20th Party Congress. The party will have to find a balance between preventing instability, and projecting strength domestically and internationally. 
The two sets of forecasts examined outline what they assess will be the way forward for Beijing in 2022. According to them, China will emphasize managing competition with the West to prevent escalation, rather than seeking co-operation. They advocate securing buy-in from other countries for China's approach to the global order, especially in the Global South, and for China to make progress in its quest to become a leader in global tech governance. Foreign Minister Wang Yi echoed this approach in his review of his ministry's foreign policy priorities for 2022.4 The policy areas and issues to watch this year therefore are:
Leading the fight against the Covid-19 pandemic: China will continue to promote the Global Vaccine Cooperation Action Initiative proposed by President Xi at the G20 summit in October 2021, and will push for the formation of an international task force to work on the prevention of future pandemics. 
Expanding narrative control ahead of the party congress: Beijing will concentrate its efforts on "telling China's story well"5 and on defusing any external risks and challenges before they fully materialize. We should therefore expect China to be even more proactive and aggressive this year with any issues it feels threaten the party's bottom line. 
Reforming the global governance system: Beijing will take advantage of the multiple multilateral events taking place in Asia in 2022, namely the BRICS, APEC, G20 and SCO summits, to try to promote its own views of the global order and to secure buy-in from other countries.  
Deepening global partnerships and de-icing relations with the US: besides strengthening strategic cooperation with Russia and trying to control the risk of escalation in the US-China relationship, this year will see Beijing try to push the EU to go back to a model of relations based on cooperation, instead of rivalry. Beyond that, the focus will be on deepening ties with developing nations by presenting China as a reliable partner that is willing to support their decisions to prioritize development interests over human rights, unlike Western countries. 
Defending China's core interests: China should be expected to push back even more aggressively against any attempts to infringe on China's "sovereignty, security and development interests". Countries, businesses or individuals whose behavior is deemed to be an attack against these interests should expect swift retaliation.  
Supporting China's domestic economic development: the BRI will remain one of the main instruments for China to maintain economic growth rates and stable supply chains. Beijing will also turn its focus towards implementing or concluding new free trade agreements in 2022. In particular, negotiations with the Gulf Cooperation Council (GCC) states, and Japan and South Korea, are likely to receive a boost.
Although Beijing will mainly focus on domestic issues this year, its international policy efforts will be directed towards the areas outlined above. Efforts will be made to reduce tensions in the top risk areas, but it would be unwise to take such efforts as a sign of permanent shifts in policy direction. The CCP is simply out to ensure that nothing disrupts preparations for the 20th Party Congress.