picture alliance / Xinhua News Agency | Jin Liwang
MERICS Briefs
MERICS China Essentials
Covid lockdowns + China-Russia space collaboration + Global Security Initiative
In this issue of the MERICS China Essentials we cover the following topics:
Looming economic fallouts from Covid lockdowns
China and Russia step up collaboration in space
Global Security Initiative: Beijing doubles down on its Russia position and revision of global order
Review: Blockchain Chicken Farm: And Other Stories of Tech in China's Countryside by Xiaowei Wang (Farrar, Straus and Giroux, 2020)
Profile: Chen Min'er - Propaganda clerk to political star
The past weeks' Covid-19-lockdown in Shanghai has put the spotlight on the pandemic situation in China. As a major international economic hub, the biggest port in the world and home to leading Chinese chip businesses, the city's lockdown is causing supply problems within China and across the globe. Plans to put workers in Covid-free "bubbles" in order to restart businesses in the Shanghai area look unlikely to be sufficient. If infections continue to spread and Beijing sticks to its so-called dynamic zero covid strategy, other cities will also have to enforce lockdowns, prolonging global supply-chain shortages. 
---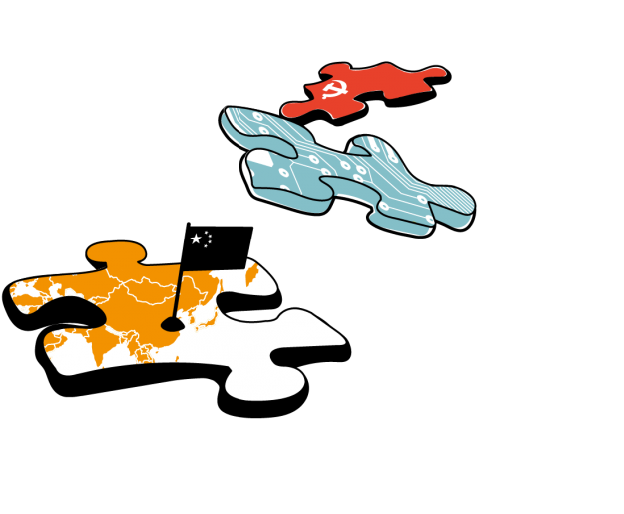 You are reading a free excerpt from the April 28, 2022 issue of our MERICS China Essentials. Become a subscriber to get access to all contents. Find out more about our subscription packages here.
---
The Chinese economy is also under heavy pressure. With millions of people confined to their homes, unemployment rose to 5.8 percent in March, the highest since May 2020, and retail sales fell 3.5 percent, the first decline since July 2020. Production woes, consumers' belt-tightening, slower wage growth are beginning to cast a pall on Beijing's ambition to grow the economy 5.5 percent this year. Doubts about China's economy and its tacit support of Russia in Moscow's war against Ukraine have seen foreign investors sell Chinese securities at record scale since the beginning of the year. On April 25, China's benchmark CSI 300 share index fell 4.9 percent, its biggest one-day fall since early 2020.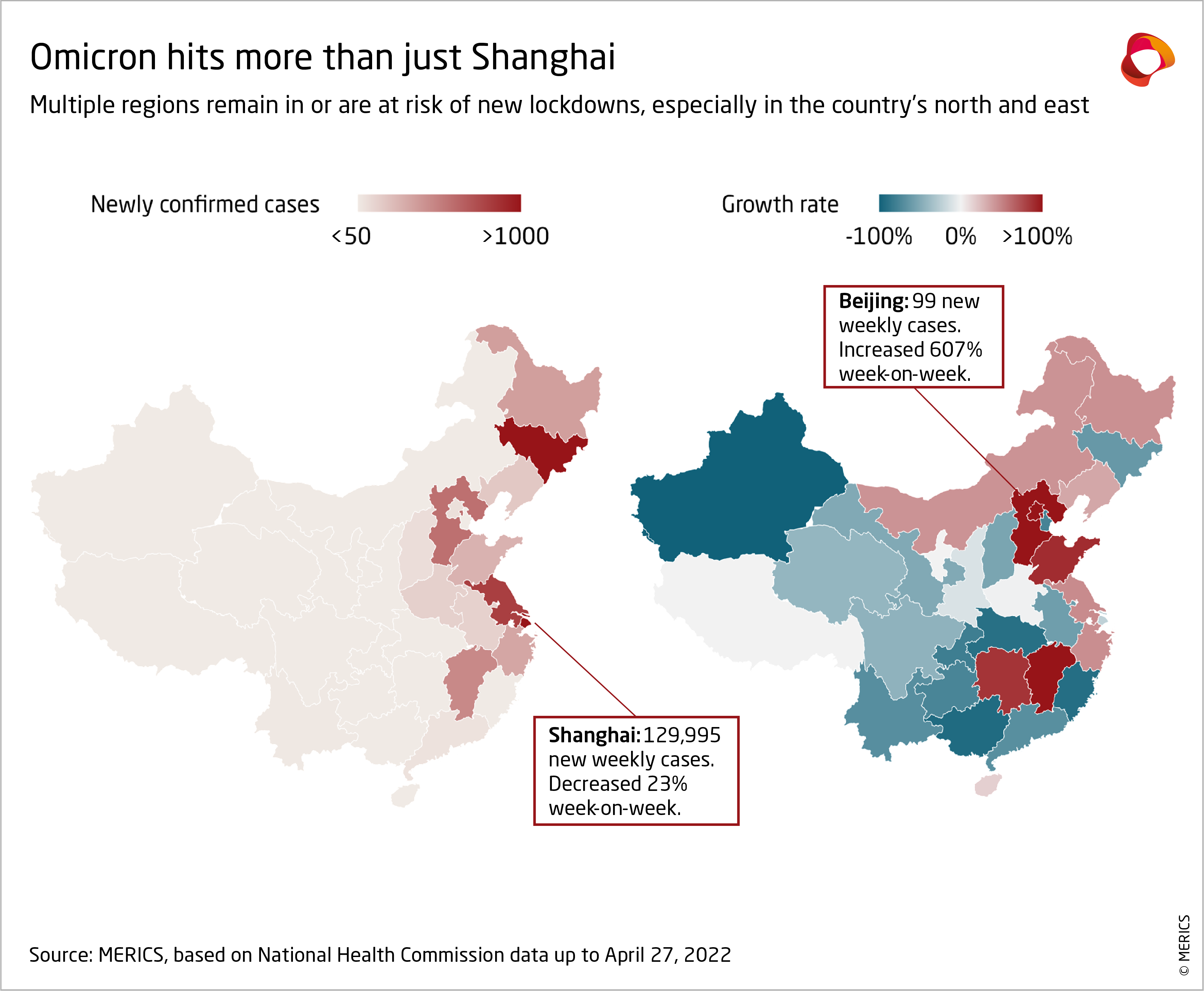 The measures in Shanghai are causing widespread domestic discontent. Web users have severely criticized the city's inconsistent and poor communication, logistical challenges hampering food and medicine delivery, and sometimes inhumane circumstances for citizens in quarantine. A video called "Voices of April" (四月之声), a compilation of voice recordings about various untoward events, went viral immediately. Even though censors rapidly attempted to scrub it from the internet, new copies of the video continued to be posted, reaching nearly every corner of the Chinese internet.
Aware of China's low vaccination rate among elderly citizens and the high death rate during Hong Kong's recent wave of the Omicron variant, national authorities have increased the pressure on localities to maintain the dynamic clearing strategy. This will force local authorities to take strict measures at even the slightest hint of a new outbreak – the capital, Beijing, included. The city reported 33 new cases on Tuesday April 26, triggering local restrictions, mass testing, and panic buying of supplies as fears of an impending lockdown arose. 
MERICS analysis: "While some regions of the world eliminated remaining Covid restrictions, China is having its worst outbreak since the start of the pandemic. The measures are also being taken in a very different context to that two years ago, when the global economy as a whole was scaling down", says MERICS analyst Aya Adachi. "Many economies that rely on Chinese imports are now transitioning to a post-pandemic return to normality. China will likely present them with major supply-chain problems, as a growing number of Chinese cities is in various stages of lockdowns."
More on the topic: Read the new report by the European Think-tank Network on China (ETNC) on "Dependence in Europe's relations with China" co-edited by MERICS analyst Francesca Ghiretti. MERICS experts Barbara Pongratz, Bernhard Bartsch and Vincent Brussee contributed the Germany chapter of the report.
Media coverage and sources:


300 million tons
… is the new coal production capacity increase target for 2022, presented by Premier Li Keqiang. This means an increase of 2,2 percent. Shortly after Li's announcement, China's National Energy Agency underscored the message, saying that: "Coal power will still carry an important role in ensuring power supply security for a long time". This fits into the broader trend of prioritizing energy security in the context of the invasion of Ukraine.