picture alliance / ASSOCIATED PRESS | Kevin Lamarque
MERICS Briefs
MERICS Europe China 360°
Trade and Technology Council + Chinese debates on sanctions on Russia + EU-Japan summit
In this issue of the MERICS Europe China 360° we cover the following topics:
After Ukraine, what can China expect from the EU-US Trade and Technology Council?
Western sanctions on Russia: challenges and opportunities for China
Buzzword of the week: NATO
A timely EU-Japan Summit
Anti-forced labor mechanism set to spark China-related debate within EU
By Rebecca Arcesati
From 14–16 May, European Commission and US government officials gathered in Paris-Saclay for the second ministerial meeting of the Trade and Technology Council (TTC). The lack of groundbreaking outcomes should not come as a surprise given the forum's limited mandate, nor should it lead observers to underestimate the progress made since the two sides first gathered in Pittsburgh eight months ago.
Russia's invasion of Ukraine has provided an important test case for this young forum. Preexisting working dialogues within the TTC laid the groundwork for the swift imposition of technology export controls on Russia and Belarus. Now the challenge will be to maintain the momentum to tackle longer-term issues such as "China's state-centric approach to the economy", US trade chief Katherine Tai told stakeholders on Monday citing trade distortions.
---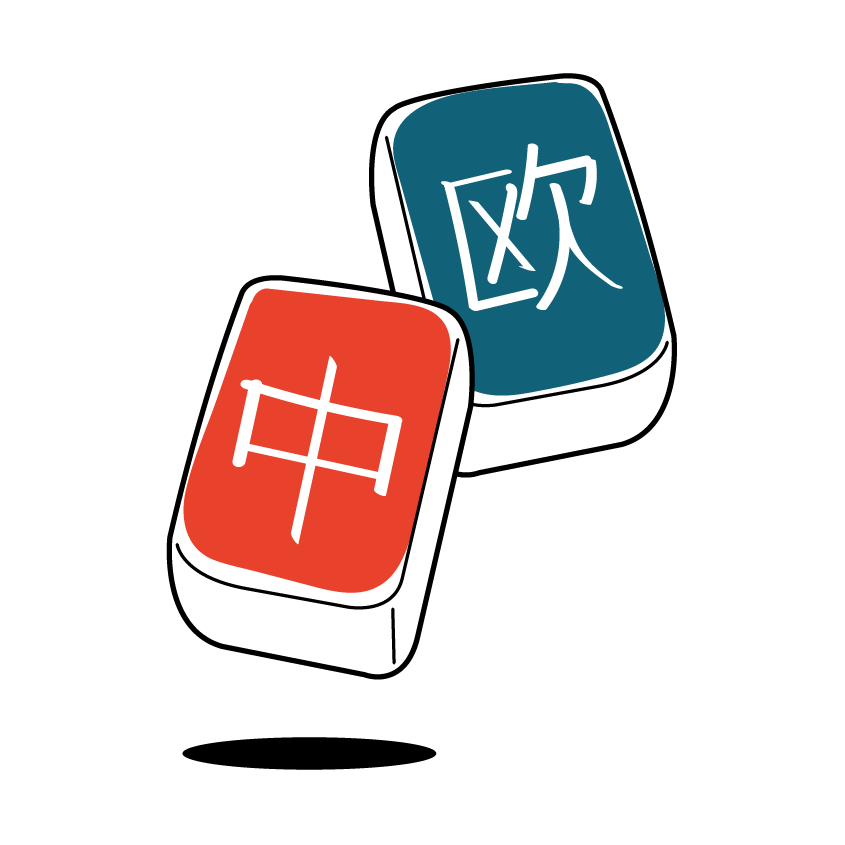 You are reading a free excerpt from the May 19, 2022 issue of our MERICS Europe China 360° Brief. Become a subscriber to get access to all contents. Find out more about our subscription packages here.
---
The war has cemented a consensus that was already emerging following the coronavirus pandemic and geopolitical tensions with China: be it in critical value chains or in the digital and information spaces, deep interdependence with authoritarian powers is a source of risk which must be addressed.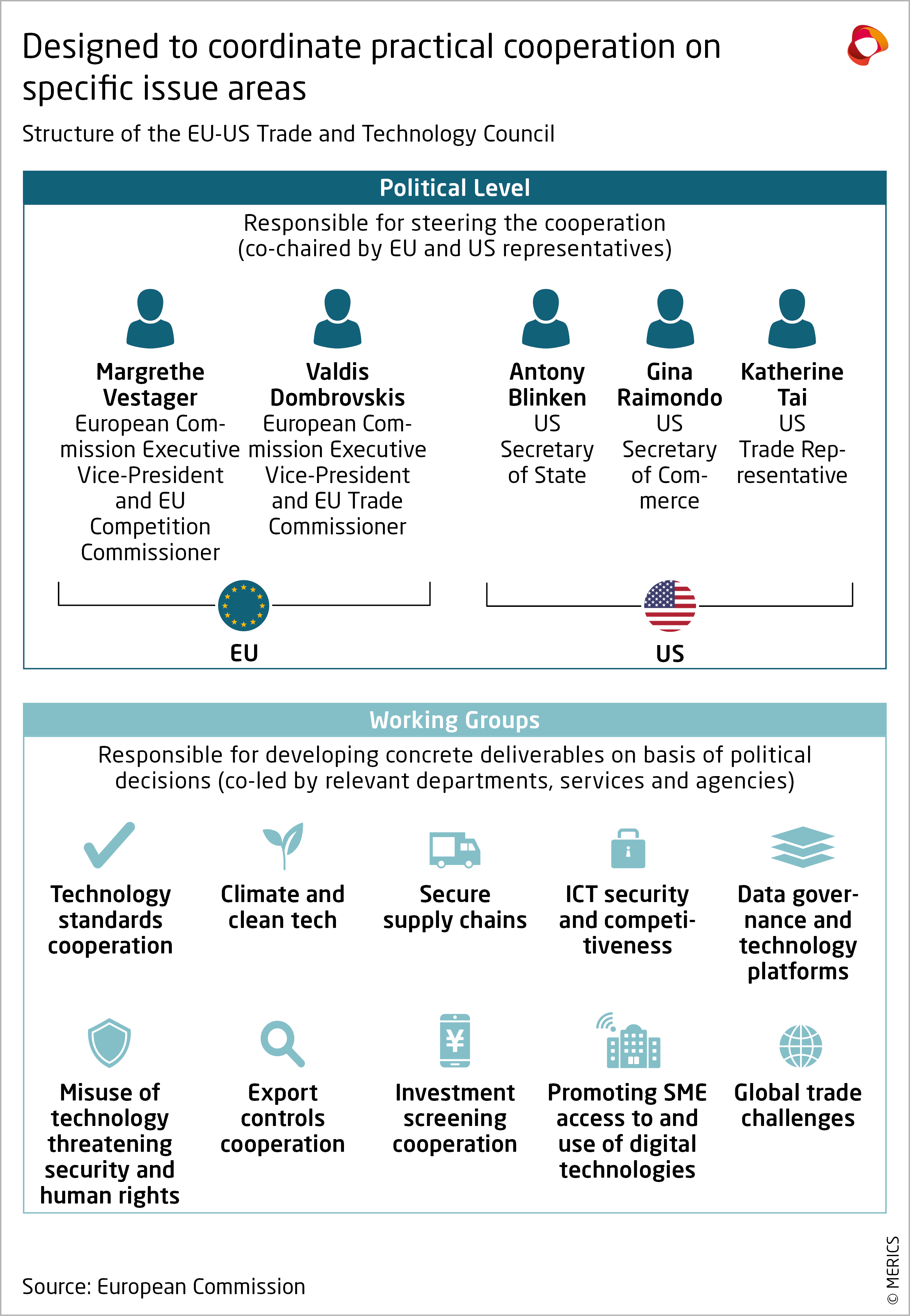 Supply chain resilience was the buzzword of this TTC. Following pandemic-induced disruptions and shortages, semiconductors have been a focus of the forum's work. But the urgency to realize the twin digital and green transition, coupled with past policy mistakes, is also creating new dependencies on China in other areas which both sides need to contend with. 
In their joint statement, the EU and the US affirmed their intention to diversify supply chains for rare earth magnets — essential products for meeting decarbonization targets — and solar supply chains. For the former, all stages of production are heavily concentrated in China. The country is also the leading exporter of solar photovoltaic (PV) products, an industry tied to Uyghur forced labor. The statement stresses the commitment to "eradicate forced labor" and reduce reliance on "unreliable sources of strategic supply".
China's centrality in Information and Communication Technology (ICT) supply chains was also in focus. One of the most concrete outcomes of the TTC has been the creation of a taskforce on joint public financing for secure digital infrastructure in third countries to provide alternatives to "high-risk vendors" — a nod to China's Digital Silk Road. This would be the connective tissue between the EU's Global Gateway and US efforts in this area, but the two are far from identifying joint projects to pursue.  
Transatlantic competitiveness in future technologies is a related priority in which China is forging ahead, particularly 6G and Artificial Intelligence (AI). In addition to cooperating on research and development and technology governance, the EU and the US have established a Strategic Standardization Information mechanism to "promote and defend our common interests in international standards activities". This is largely aimed at China's strategic approach to technical standardization and will initially focus on electric vehicle chargers.
Much of the TTC's work is devoted to technology protection through coordination on investment screening and export controls, where more work is needed to tackle China's state-led strategy to appropriate foreign technology, particularly in dual-use fields. Through the TTC, there is now "a structured and systematic forum for the US and the EU for further work on export restrictions and sanctions" which would have been unthinkable a year ago.
In sum, China will have to contend with a transatlantic trade and tech forum whose work agenda has become clearer and more ambitious since its inception, when many feared that the TTC would turn into a talking shop or get bogged down with frictions on trade and digital governance. Policy priorities have now been set. The next meeting, scheduled before year-end, will tell whether concrete action will follow.
Read more:
By Thomas des Garets Geddes
In China, the war in Ukraine is often described as marking a key turning point in international relations. Cui Hongjian, an influential analyst at the China Institute of International Studies (CIIS), describes it as accelerating the shift from "an era of globalization characterized by geo-economic cooperation to an era of post-globalization defined by geopolitical competition". The war and the wide-ranging sanctions imposed on Russia seem to have acted as a wake-up call in China — a call both to protect but also to advance China's interests at a time of international unrest.     
Chinese experts have been taken aback by the sheer scale of Western sanctions targeting Russia. Many argue that similar measures could not be imposed on China because the cost for the West would simply be too high. Nevertheless, anxiety over such a prospect remains perceptible. Regardless of their scope, anti-China sanctions "will be one of the greatest challenges to be faced by our country" in the coming years, warns Wu Baiyi, a researcher at the Chinese Academy of Social Sciences (CASS).