picture alliance / Dongxu Fang / Costfoto
MERICS Briefs
MERICS China Essentials
Digital industry + Hong Kong's new Chief Executive + Economic downward spiral
In this issue of the MERICS China Essentials we cover the following topics:
China's tech firms remain under Beijing's close supervision
Former hardline security chief confirmed as Hong Kong's new chief executive
After soaring through much of the pandemic, China enters an economic downward spiral
New Philippines president Marcos: Good news for China?
Profile: Shen Yiqin – one of the few women in China's leadership eyes promotion


Beijing's so called "tech crackdown" appeared to come to a close when the Politburo called on April 29 for "finalizing the rectification of the platform economy". However, this was quickly followed on May 7 by new regulations banning minors from sending virtual gifts on livestream platforms, making clear that there will be no return in this new phase to the previous state of laissez-faire.   
---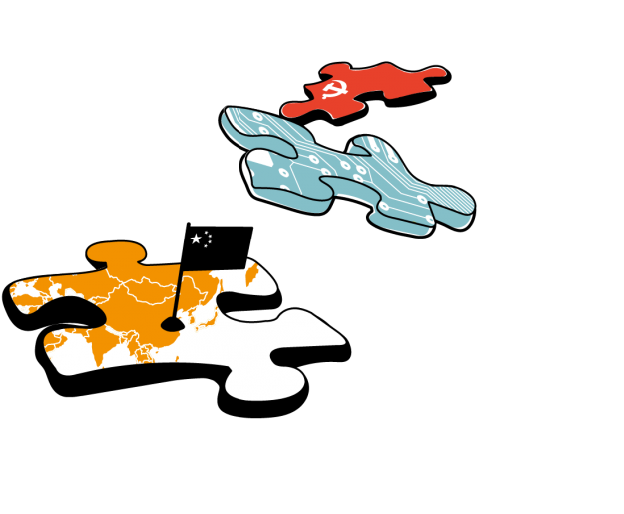 You are reading a free excerpt from the May 12, 2022 issue of our MERICS China Essentials. Become a subscriber to get access to all contents. Find out more about our subscription packages here.
---
This is because the issues addressed by the earlier regulatory storm are still dear to Beijing. The collapse of the Ant Financial stock listing in October 2020 over risks to financial stability precipitated the initial crackdown. In 2021, it expanded to include concerns over data collection and privacy, unfair competition, social stability, labor law violations and the impact on minors. In the end, almost all major digital service companies were affected. 
The new phase is to "normalize supervision", which will likely come with a slower pace of new regulations and more predictability. A traffic light system, mooted by Vice Premier Liu He in March, will communicate to firms when they need to improve in the eyes of the government, while firms that have received a green light will benefit from support measures. But much remains unclear about the criteria of such a system, beyond a reference that the State Administration of Market Reform made in January in the context of anti-monopoly regulations.  
The Politburo has also been calling for the "healthy development of the platform economy". This policy concept has been a consistent part of Beijing's position since it first emerged in 2018 and shows no sign of receding. While there is no dramatic change, there is a discernible shift in emphasis from "healthy" to "development".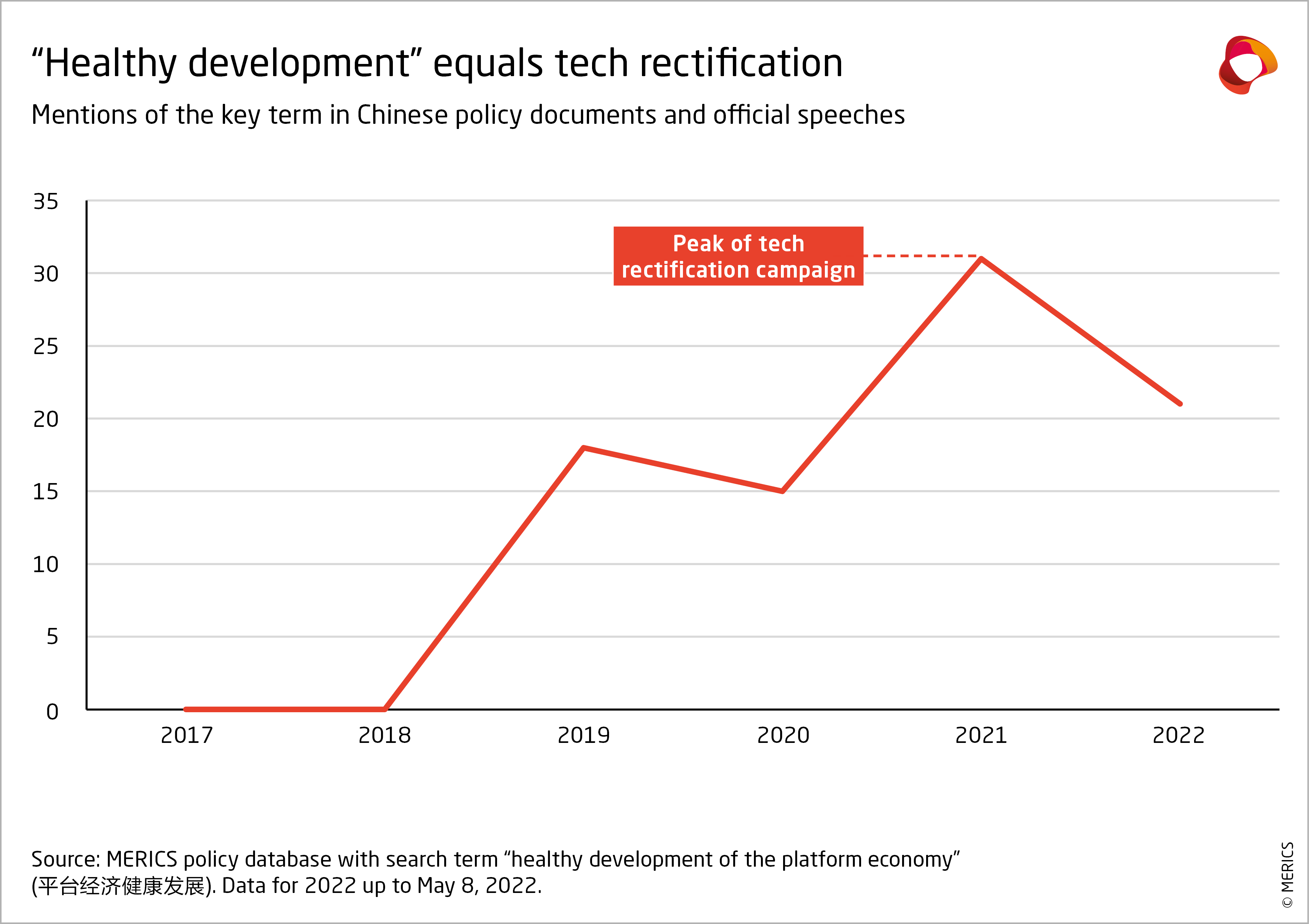 Concrete support for the platform economy is forthcoming. Incentives will likely intersect with government efforts to mobilize data for national strategic goals like industrial upgrading. With corona lockdowns posing a major challenge to economic growth, the Politburo has also emphasized job creation. Digital service companies had been shedding workers at a time when a large new batch of graduates is preparing to enter the job market.  
MERICS analysis: "The so called 'tech crackdown' was always a preparation for the digital economy to take on greater importance in national plans," says Jeroen Groenewegen-Lau, Head of Program of "Science, Technology and Innovation" at MERICS. "Tech firms are currently eager to display their loyalty and active support for government priorities, from rural revitalization and common prosperity to semiconductor manufacturing to job creation, and Beijing will seek to prolong that. Although the regulatory storm is calming down, the days of China's breakneck tech development in regulatory grey areas are over. What this means for China's innovation ambitions will only become clear once the dust has settled." 
More on the topic: Read the short analysis by MERICS Analyst Kai von Carnap and Valarie Tan Tech regulation in China brings in sweeping changes.  
 
Media coverage and sources: 


50 million
… is the number of foreign-made computers in government offices and key state-owned enterprises that Beijing wants to replace with indigenous options. The move, which also applies to foreign software, comes at the last leg of a three-year long campaign to completely replace all foreign computers and operating systems. Under the "30-50-20" plan, 30 percent were replaced in 2020, 50 percent in 2021, and the remaining 20 percent in 2022. On paper this is being done in the name of cybersecurity. However, the plan also serves as a type of industrial policy aimed at boosting demand for domestic technology providers – all part of Beijing's march towards technological self-reliance. 
The facts: Hong Kong's former security chief, John Lee, who was instrumental in the harsh crackdowns on pro-democracy activists and sanctioned by the US government, has been officially confirmed as the city's new chief executive. Lee secured more than 99 percent of votes cast by the election committee consisting of members vetted by him. It was the first time in twenty years that only one candidate stood for election, reducing the process to a rubberstamp for Beijing. Unlike his predecessors, who had years of experience in business and government, Lee is the first former policeman to lead Hong Kong. On the heels of his rise to top position, 90-year old cardinal Joseph Zen and three other prominent civil rights advocates were arrested for "collusion with foreign forces".