MERICS Briefs
MERICS China Industries
Robotics sector + "Complete industrial chain" + Industrial internet
In this issue of the MERICS China Industries Brief, we cover the following topics:
Robots here, there, everywhere: Beijing to accelerate robot rollout
MIIT minister doubles down on efforts to strengthen China's industrial base
Hand-in-hand: Industry leaders unite to develop full value chain capabilities
Industrial Internet pilots and product catalogs advance localization goals
New innovation bases to unite domestic firms on technical standards


At a glance: 17 government agencies led by the Ministry of Industry and Information Technology (MIIT) issued a plan for China's "Robot+" initiative, which seeks to spur on the application of robots in ten key economic and social areas – from manufacturing to energy, healthcare, elderly care and education. Key targets included are:
Double the density of industrial robots from 2020 levels to reach 492 robots per ten thousand manufacturing workers by 2025 (this goal was originally set in 2022)
Achieve breakthroughs in more than 100 kinds of innovative robotics application technologies and solutions
Promote over 200 robotic applications, focusing on more advanced and innovative use cases
Establish "Robot+" application benchmark enterprises, and construct several application experience as well as test and verification centers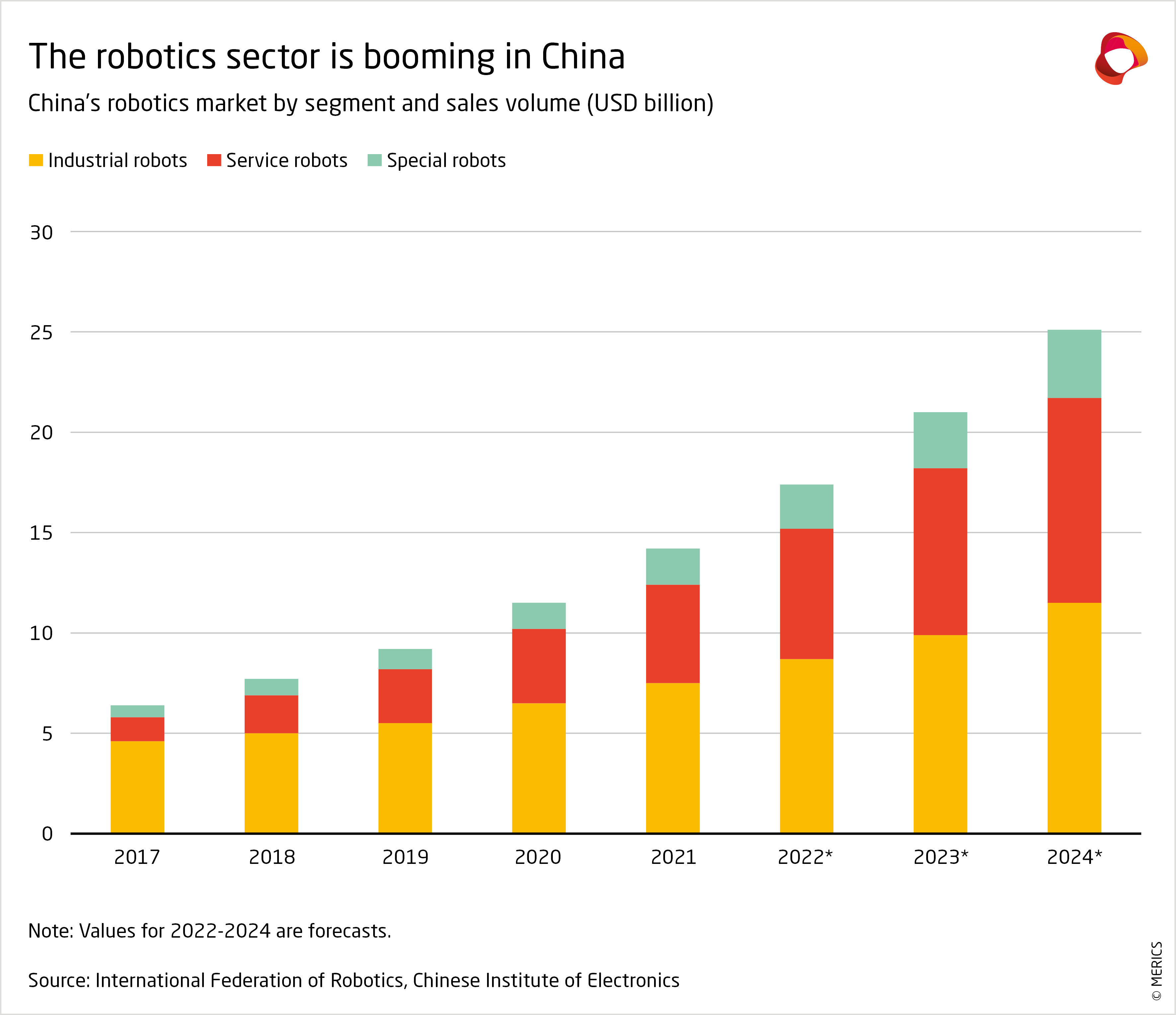 MERICS comment: The "Robot+" initiative was included as a new measure in the 14th FYP for the Robotics Sector to encourage the development of new robot products and services and accelerate their adoption and demand. As can be seen from the number of government bodies involved in the drafting of the plan, the potential fields of application are widespread across industries. The approach complements China's ambitions to leverage digital technologies such as big data and AI to promote industrial upgrading and improve living standards. Increased automation will be essential for China to raise productivity with a population that is not only ageing, but also shrinking.
The sales figures for robots in China show that the shift to an automated society is already underway. The strongest growth is expected to come from the service robot sector, due to China's aging population and increased applications across multiple sectors is set to increase demand (see exhibit). The "Robot+" initiative will provide further momentum for this transition and likely promote domestic technologies over foreign competitors. For service sectors where robots are being installed for the first time, this will lend a significant advantage to indigenous suppliers. Several local producers already dominate the domestic market in their respective areas, including Tinavi Medical Technologies (health care), Ecovacs Robotics (household robots) and Keenon Robotics (catering).
---
Article: Implementation Plan for "Robot +" Application Actions (工业和信息化部等十七部门关于印发《"机器人+"应用行动实施方案》的通知) (Link)
Issuing bodies: MIIT, NDRC, MOF, MEE, MOA, SAMR
Date: January 19, 2023
At a glance: Half a year into his new job as party secretary and head of the MIIT, Jin Zhuanglong wrote an article in the CCP's leading theoretical journal Qiushi (Seeking Truth). In an increasingly volatile geopolitical environment, the importance of S&T innovation and industrial transformation has only increased. He outlines key tasks to promote a 'new type of industrialization' that will propel China towards manufacturing superpower status:
Promote the upgrading of manufacturing by consolidating firms in traditional sectors, such as iron and steel, and strengthening China's leading position in sectors like EVs, PV and power equipment
Improve the industrial technology innovation system by integrating the innovation and industrial chains, for instance through faster commercialization of new research
Make industrial and supply chains more resilient by identifying and closing technological gaps, but also build up competitive advantages (commonly associated with chokepoints that China could employ against other countries)
Leverage green and smart technologies like 5G, big data or low-carbon production methods to build new competitive advantages