picture alliance / Xinhua News Agency | Yue Yuewei
MERICS Briefs
MERICS China Essentials
Key takeaways from Xi's report to the party congress
In this issue of MERICS China Essentials, we cover the following topics:
Xi emphasizes Taiwan, national security and social stability
Rare protest in Beijing shows control is not absolute
Q3 economic data delayed without reason or rain date during Party Congress
Amid US semiconductor restrictions, China focuses resources on self-reliance
To thunderous applause from delegates, Xi Jinping used his opening speech at the 20th Congress of the Chinese Communist Party (CCP) to reassert Beijing's "strong determination" against interference and secession in Taiwan. Even though there wasn't a big shift in language regarding the geopolitically fraught cross-strait issue, Xi chose to break with tradition and address it early in his speech – a clear indication that Beijing is unlikely to back down on its efforts to "re-unify" with Taiwan.
Both triumphant and full of warnings of dark times ahead, the CCP leadership's 72-page report, distributed to delegates at the congress, dedicated a new section to national security and social stability – a clear sign they are now priorities over the long-time focus of economic growth. Xi went on to praise "dynamic zero," insisting on the policy's success in saving lives in the fight against Covid-19 – even though the lockdowns have hammered economic growth. Since China officially reached its goal of becoming a "moderately prosperous" society last year, the report named "socialist modernization" as the main goal over the next five years. Xi warned CCP cadres against "fatigue," emphasizing that this goal would bring with it "new great struggle".
---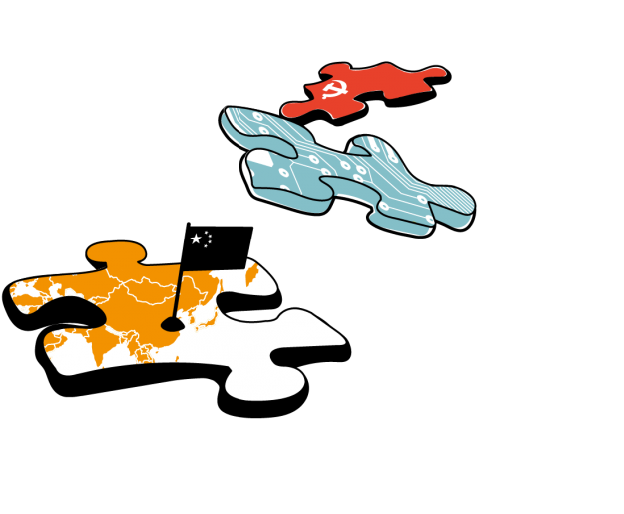 You are reading a free excerpt from the October 20, 2022 issue of our MERICS China Essentials. Become a subscriber to get access to all contents. Find out more about our subscription packages here.
---
At the same time, Xi used his report to delegates to signal his holding steady in economic policy. Opening up select parts of the economy – by aspiring to market reforms and liberalization – is meant to continue, even as strong state-owned enterprises and the pursuit of economic and tech self-reliance remain parallel goals. This is not a contradiction, but a norm – based on Beijing's goals for different parts of the economy, there are different rules and objectives for each. But more interesting indications of upcoming economic policy could arguably be found in other sections of the report.
The newly added science-technology-innovation section showed that Beijing wants to intensify its technological self-reliance. It outlined how education, science, technology and talent will be the strategic drivers of China's transformation into a "modern socialist country" – the leadership knows China needs highly skilled workers, including foreign talent, to upgrade its labor force. The CCP will set targets, while companies lead the charge, supported by a more closely aligned innovation ecology. The terms "science and technology" (科技) were mentioned more often than at the last congress, in 2017.
MERICS analysis: "The report shows the continuity of the CCP's policy direction and priorities. But the congress's most fundamental political change cannot be found on paper. Instead of stepping down after two terms as CCP General Secretary to make way for a younger leader, Xi Jinping has set himself up as his own successor," says Katja Drinhausen, Head of MERICS Politics & Society Program. "In his first decade in power, Xi formulated grand ambitions for China and the CCP. He has now locked them firmly in place and paved the way for his mission to make them reality."
Media coverage and sources: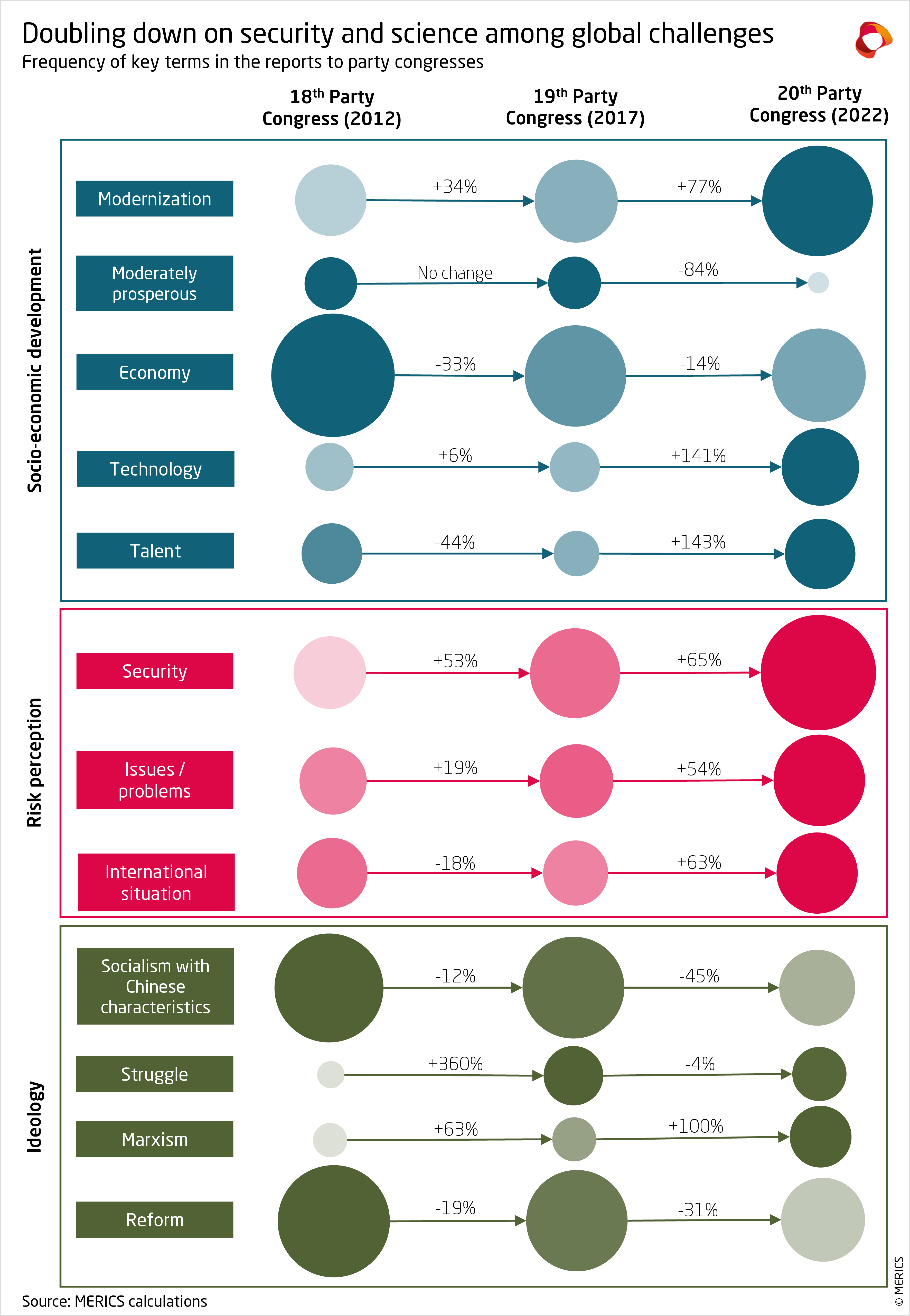 27
This is the number of times Xi Jinping used the term "national security" (国家安全) in his speech at the CCP's National Congress – a steep rise from 18 mentions in 2017 and a mere four in Xi's predecessor Hu Jintao's speech 2012. Over the last ten years, the report's references to "security" have almost tripled, from 36 to 91. These changes illustrate vividly how much Chinese politics has changed since Xi came to power. Quickly adopting the strong-man role, he unveiled his concept of "comprehensive national security" as far back as 2014.
More on the topic: To understand how Xi and the CCP's preoccupation with ensuring security has reshaped the party-state's domestic and international conduct, read our MERICS China Monitor on the topic by Katja Drinhausen and Helena Legarda.